The project for the construction of a solar power plant with a capacity of 20 MWh is ready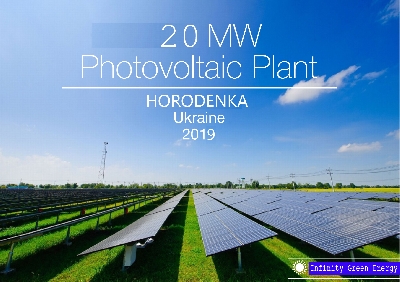 The project of building a solar ftovoltaic electric station is ready.
Title: "The Solar Power Plant of Horodenka".
Capacity: 20 MWh.
Project readiness: land lease agreement for 49 years (land with appropriate purpose: for placement, construction, operation and maintenance of buildings and structures of facilities of power generating enterprises, institutions and organizations), agreement on non-standard connection to the power networks of oblenergos and technical conditions for joining the general network.проект строительства солнечной фтовольтаичнои электрической станции.
| | |
| --- | --- |
| Location | Ivano-Frankivsk region, Ukraine |
| Land area | 50 hectares |
| The planned number of workers | 10 people |
| Annual profit | 3 300 350 EURO not VAT |
| Payback | 4 years |
| Emission reductions in the atmosphere are | 20 184 tons of СО2 per year |
tel. +380 66 3378060
https://infinity-energy-inc.com
← back